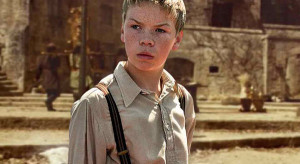 Every day we get closer to the announcement of production on The Chronicles of Narnia: The Silver Chair. We don't know when that day will come, but we believe that it's only a matter of time.
We've heard through the grapevine that the role of Eustace Clarence Scrubb is going to be recast. It makes sense, though. When they filmed The Chronicles of Narnia: The Voyage of the Dawn Treader it was 2009. A year later, Will Poulter had grown about a foot taller. He was 16 when they filmed, and is now 22. It's the unfortunate realities of a film series that is live action, that has very long gaps between each film produced.
It's still far too early to know any possibilities for actors that could play Eustace this time around, and we've been e-mailed many times over the years by many hopeful girls that wanted the role of Jill Pole. We can't help with that, though.
Stay tuned for more as we learn it!
---