Hey, everybody! Welcome back to Tumnus' Bookshelf: The NarniaFans Book Reviews where we review any and all books written by, about, and inspired by CS Lewis, The Land of Narnia, and The Inklings. For today's book review we will be looking at Diana Pavlac Glyer's new book Bandersnatch: CS Lewis, JRR Tolkien, and the Creative Collaboration of the Inklings.
Title: Bandersnatch: CS Lewis, JRR Tolkien, and the Creative Collaboration of the Inklings
Author: Diana Pavlac Glyer
Illustrator: James A Owen
Publisher: Kent State University Press ( December 8,2015)
ISBN-10: 1606352768
ISBN-13: 978-1606352762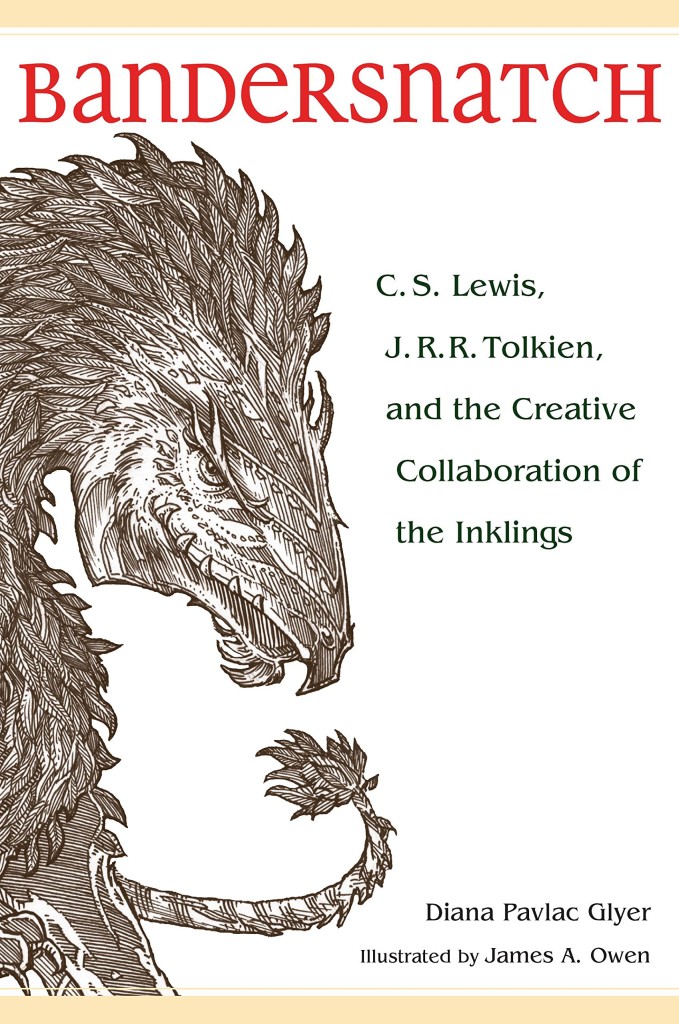 Summary:
From Diana Pavlac Glyer, Author of The Company They Keep comes a brand new book looking at the literary circle known as The Inklings. Geared towards a general audience this book looks at how the members of this group influenced each other's life and work and made each other better people and writers. Then each chapter is summarized briefly at the end to help readers better apply these same principals of collaboration to their own lives.
Such things include: resonating with a work, actively responding, providing constructive criticism, and the importance of meeting often. Also in this book are brand new illustrations by Here There Be Dragons author James B. Owen. There is a hidden surprise in each picture that only adds to the surprising fun of this informative book.
Review:
While the friendship of CS Lewis and JRR Tolkien has been well documented, one thing that many overlook is how the Inklings were not just a group of friends but how they collaborated with each other creatively. Usually when we think of "collaborating" in literary terms we think of something along the lines of say, the Left Behind series by Tim LaHaye and Jerry B. Jenkins. One person comes up with the idea and the general outline, the other person writes the book.
However, in this new book Bandersnatch we see that CS Lewis, JRR Tolkien and the Inklings were very much collaborators. They might not have all written books together, but their meetings together, challenging one another, encouraging someone to finish a project, sharing their work with each other, providing feed-back and criticism, is everything that collaboration is all about. In fact we even learn that some of them did work on projects together, some which saw publication and others which due to time and other circumstances never made it that far.
To better understand what this means, in page 44 of the book, Diana Pavlac Glyer notes a parallel between CS Lewis The Pilgrim's Regress and JRR Tolkien's The Silmarillion. She points out that both of these books are the least accessible of the authors works and that it happens that both were written without any input from the Inklings. Glyer shares excerpts from the first drafts of Lord of the Rings, in which the Hobbits were named Bingo, Odo, and Marmaduke and there was lots and lots of Hobbit talk, and compares it with the published draft, which came about after Lewis feed-back and featured less talk, deeper narration and Hobbits named Frodo, Sam, Merry, and Pippin. This demonstrates to readers what the Proverb says, "As iron sharpens Iron so too does one man sharpen another."
Daina Pavlac Glyer edited and revised this book from a much earlier work she did on the Inklings called The Company They Keep. She dedicated much of her literary pursuits to not only studying the Inklings but trying to uncover if they influenced each other as writers, and it clearly shows. The long time she spend researching pays off and she demonstrates in this book just how much she knows about them. More importantly, she presents it in such a way that anyone can enjoy this book and not just serious scholars.
Naturally, when it comes to looking at the Inklings some of it is going to delve into biographical information. However, in the case of Bandersnatch we don't look at each story through the lens of one member but the Inklings group as a whole. This in turn gives us a better idea of who they really were as people as we see their comments and thoughts in context. For example we learn that while Tolkien did not personally enjoy the Narnia books, that he regretted his dislike, admitted he didn't like very many things, and would even recommend the Narnia books to younger readers and gave them to his grandkids as presents.
Also included are excerpts of fun little poems and nonsense stories they wrote that were never meant for publication but were more of a chance to let loose. We see from all of this that more than just a stodgy bunch of Oxford dons who wrote some pretty good stories, this was a group of friends and as such bantered like the best of them.
The book's title is derived from two quotes pertaining to this creature, the first from Lewis Caroll's Through The Looking Glass that describes the White Queen dashing off and the White King telling Alice she may as well try to catch a Bandersnatch. The second is from CS Lewis in response to a reader asking if anyone influenced Tolkien and Lewis saying that no one could influence Tolkien as it was like trying to catch a Bandersnatch.
James B. Owen author and illustrator of The Chronicles of the Imaginarium Geographica books supplied illustrations for this book. Here he recreates key scenes from the lives of the various Inklings in his unique style. However there is a twist to the pictures. Inside each one is a hidden "Bandersnatch". While it is never seen in Through The Looking Glass, here Owens imagines it as looking somewhat like a dragon. The Bandersnatch helps communicate that spark of creativity that all the inklings possessed that united them together. Their spark, like the Bandersnatch, was rare, illusive, powerful, and it was only by collaborating that it could in fact be captured.
Glyer also concludes each chapter with a brief summary entitled "Doing what they did" that looks at how we in 2016 can apply some of the same things to our own lives to make us better collaborators. Collaboration isn't just something a group of writers can do, but Bible Studies, Youth Groups, rocket clubs, sports teams, and yes, even families can do as well. Collaboration is simply about one thing: working together.
Glyer adapted this book from her earlier work, The Company They Keep, and for good reason. She admitted that the earlier book was more for scholars, but this was for general readers. And for us fans of Lewis, Tolkien, and the Inklings we are the better for it. As she promises in the first chapter, the book provides a lively, insightful, fly on the wall account of what it must have been like to be with these men as they worked together for all readers, young and old alike. Sure enough, you really feel like you are in that smoke filled British pub listening in on one of their meetings. Top it off with James B. Owen's illustrations you have a rare book about the Inklings that is fun as well as informative.
Five out of Five Shields
Order the book from Amazon.com