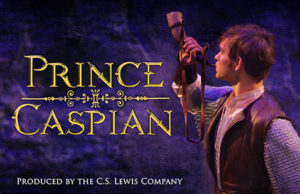 There have been many stage adaptations of The Lion, the Witch and the Wardrobe, but it's time for Prince Caspian to be performed. Cast member Sarai Manning sent us details so that you can see the show, if you live within range of Taylors, South Carolina or can get there. I reached back out to her for more information, and hope to be able to share some photos of the premiere soon.
Here's part of her report:
Hello NarniaFans!
I have been a follower of this blog probably since 2008, right around the time the Prince Caspian film came out. I don't check as regularly as I used to, but I am honored to be able to share with you some AMAZING NARNIA RELATED news that is changing history once again for Narnia.
Logos Theatre and the Academy of the Arts in Taylors, South Carolina is presenting the WORLD PREMIERE OF "PRINCE CASPIAN" ON STAGE.
The show was written by our amazing director Nicole Stratton and was approved by Douglas Gresham himself! In fact, Gresham liked the script so much that next week he is traveling from his home across the Atlantic ocean to come to our opening weekend performances.
I am honored enough to be a part of this cast of around 100 in bringing to the stage the story of Prince Caspian for the FIRST TIME EVER!
The show opens December 16, 2016 and runs through January 21, 2017.
I shall try and link some important information below for you.
Logos Theatre Website: http://www.theacademyofarts.org/logos.html
Academy of the Arts Website: http://www.theacademyofarts.org/
YouTube (featuring many videos about Prince Caspian): https://www.youtube.com/user/TheAcademyofArts/videos
Facebook: https://www.facebook.com/LogosTheatre/?fref=ts
Instagram: https://www.instagram.com/aoaministries/
Douglas Gresham will be in Taylors for the show Dec. 16 & 17!
---