About Us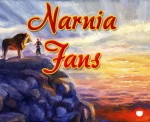 NarniaFans.com was created in 2003, with the intent to not only share the Gospel, but also to bring fans together, and report all the latest news on the worlds of C.S. Lewis.
The Dancing Lawn is our discussion forum with thousands of friendly members, and a family-friendly atmosphere. Our outstanding moderators are there to help, and make up much of the incredible creative team that helps Narnia Fans stand out as a leader in the Narnia world.
We welcome you through the Wardrobe to enter Narnia with us!
-Paul Martin, Founder and Webmaster
The Goal of Narnia Fans is to deliver the latest news about the films "The Lion, The Witch, and The Wardrobe," "Prince Caspian," "The Voyage of the Dawn Treader" and "The Silver Chair" to any who wish to know, in a manner that is both spoiler free for those that wish to remain so, and easy to read and understand.
Narnia Fans is a Christian site, run by Christians. Paul Martin (aka Specter) is Roman Catholic, but many of the members are various Christian denominations.
The site was started on December 1, 2003, and opened fully on January 1, 2004. I had not found any Narnia fansites like this, and figured I'd give it a shot, and the rest is history. It's been changing and growing since then, and will continue to grow indefinitely.
Special Thanks goes to:
C.S. Lewis
Micheal Flaherty
Chip Flaherty
Douglas Gresham
Ernie Malik
Shane Rangi
Howard Berger

Walden Media
Twentieth Century Fox
Walt Disney Pictures
Sony
TriStar
The Mark Gordon Company
The C.S. Lewis Company
Entertainment One

Andrew Adamson
Michael Apted
Mark Johnson
Philip Steuer

Patrick Kake
Lee-Ann Hardie
Peggy Taylor
Kat Davis
Jim Davis
EMI-CMG
Aaron Cairre
Bruce Edwards
Bob Siemons Design
Master Replicas
Dark Horse

and many many many more individuals that have been a big part of the success of this website. Without all of your support, Narnia Fans would be an empty place, and I'm grateful to every one of you for breathing that much more life into this corner of the web.
Narnia Fans Questions and Answers
WHAT IS THE SPOILER POLICY?
In short: if someone from Walden Media, Disney, Twentieth Century Fox, Sony, TriStar, eOne, The C.S. Lewis Company or The Mark Gordon Company says it, we'll talk about it freely.
While you may or may not agree with this determination, it should also serve as a warning to folks that are leery of reading anything about The Silver Chair. The Official Site opens the door to free posting on that issue. Here's a quick rundown on how things break down:
Any and all Narnia.com announcements – non-spoiler
cast names – non-spoiler
character names – non-spoiler
official photos – non-spoiler
spy photos – spoiler
character descriptions – spoiler
dialogue – spoiler
plot points – spoiler
We will also do our very best to make sure that headlines will not contain what we believe to be spoilers of any kind. We want to honor and respect fans on both sides of the fence, and want to assure you that Narnia Fans is a welcome place for both groups.
WHAT ARE SOME OF THOSE ABBREVIATIONS YOU USE?
Here's a few of the abbreviations you may see on this page:
CON = Chronicles of Narnia
AA = Andrew Adamson
LWW = The Lion, the Witch, and the Wardrobe
PC = Prince Caspian
VDT = The Voyage of the Dawn Treader
SC = The Silver Chair
HHB = The Horse and His Boy
MN = The Magician's Nephew
LB = The Last Battle
(any initials) = If I get lazy and write actors/crew names as initials, I usually write the whole name at the beginning of the paragraph.
WHAT SOFTWARE DO YOU USE TO PUT THIS WEBSITE TOGETHER?
A variety. I use WordPress, Narniapedia, Adobe Photoshop, and FileZilla. When I started the website, I used Adobe Dreamweaver to build the pages and the theme, all by hand. WordPress changed everything, though, allowing me to focus on the content, rather than the page design. There's nothing wrong with building your own themes from scratch, but if you're as limited with time as I am, it's sometimes easier to just get a theme and modify it to work for you.
WILL YOU HOST MY SITE?
If you think that you've got a site that would enhance Narnia Fans, e-mail us and we'll take a look!
WILL YOU MAKE ME SOME COOL GRAPHICS?
We really don't have time for that. If you offered some $$$, some of us might make some time though. 🙂
Legal Questions and Answers
AREN'T YOU AFRAID THE STUDIOS WILL USE THEIR DARK POWERS AND TRACK YOU DOWN?
Not really, we try to stay out of their way so they don't really bother with us. Personally I would hope they like our site and check it daily!
CAN I RIP OFF STUFF FROM YOUR WEBSITE?
You really should try writing for yourself. It isn't going to help you to directly copy anything from my website, any more than it would help me to copy content from your website. Google does notice that, and doesn't like it.