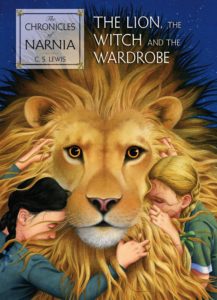 Author: C.S. Lewis
Publication Date: 1950
THEY OPEN A DOOR AND ENTER A WORLD
Dedication:
To Lucy Barfield
My Dear Lucy,
I wrote this story for you, but when I began it I had not realized that girls grow quicker than books. As a result you are already too old for fairy tales, and by the time it is printed and bound you will be older still. But some day you will be old enough to start reading fairy tales again. You can then take it down from some upper shelf, dust it, and tell me what you think of it. I shall probably be too deaf to hear, and too old to understand, a word you say, but I shall still be
your affectionate Godfather,
C.S. Lewis
Summary: Narnia …. a land frozen in eternal winter … a country waiting to be set free.
Four adventurers step through a wardrobe door and into the land of Narnia — a land enslaved by the power of the White Witch. But when almost all hope is lost, the return of the Great Lion, Aslan, signals a great change … and a great sacrifice.
Film Adaptations
Stage Adaptations
Chapters
Characters of The Lion, the Witch and the Wardrobe
Locations
London Countryside
The Professor's Mansion
Narnia
Mr. Tumnus' Home
Cair Paravel
Mr. and Mrs. Beaver's Dam
Fords of Beruna
The White Witch's House
Western Wilds
Related Music