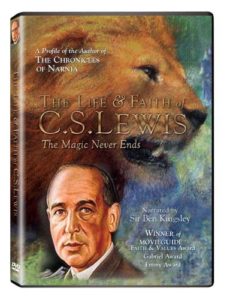 Run Time: 57 minutes
Production Company: Crouse Entertainment Group/The Duncan Group
DVD Release: 22 July 2003 (Re-released 9 December 2008)
Summary: The Magic Never Ends – The Life & Work of C.S. Lewis is the first-ever major network biography profiling the man whom many consider "the greatest Christian writer of the 20th century." This critically acclaimed film explores his numerous works as a Christian apologist and follows Lewis from his boyhood in Belfast through his service in World War I and his rise to prominence as one of the most notable literary figures of the 20th century. This stunning, visual portrayal of Lewis' life delves into his life-changing friendship with fellow professor J.R.R. Tolkien and his short yet uniquely powerful marriage to Joy Davidman.
The Magic Never Ends includes extensive interviews with Lewis' stepson Douglas Gresham, Wheaton College scholars Lyle Dorsett and Christopher Mitchell, Debra Winger (the critically acclaimed actress who portrayed Joy Davidman in the Richard Attenborough film Shadowlands) and Lewis' one time personal assistant Walter Hooper. The film also features the rich, EMMY award-winning soundtrack from composer David Barrett. Airing nationwide on PBS. 2003 MOVIEGUIDE Faith & Values Award, 2002 UNDA Gabriel Award winner for "Best Documentary."