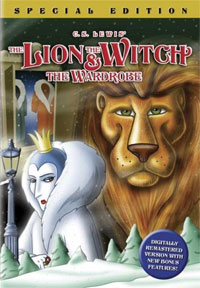 Release: Sunday, April 1, 1979
Run Time: 95 Minutes
Production Company: Bill Melendez Productions
Director: Bill Melendez
Composer: Michael J. Lewis
Soundtrack: The Lion, the Witch and the Wardrobe (Animated) Soundtrack Soundtrack
Summary: The Emmy Award winning Animated special produced by The Children's Television Workshop, creators of "Sesame Street" and "The Electric Company" has been digitally remastered from a high definition source to produce a picture of superior quality.
Join Peter, Susan, Edmund,and Lucy as they journey to the mystical land of Narnia, where it is always winter, but never Christmas! With the help from Aslan the lion, our heroes must risk everything to free Narnia from the cold. But little do they know the danger they will face should they fall into the clutches of the frigid and terrifying White witch.
For the release, they recorded two soundtracks, the original for British audiences and a soundtrack with five voice substitutions for American audiences.
Adapted from
Cast of The Lion, the Witch and the Wardrobe (Animated)
Simon Adams – Edmund Pevensie
Nicholas Barnes – Edmund Pevensie
Sheila Hancock – The White Witch
Beth Porter – The White Witch
Arthur Lowe – Mr. Beaver
Don Parker – Mr. Beaver
Leo McKern – Digory, The Professor
Dick Vosburgh – Digory, The Professor
Leslie Phillips – Mr. Tumnus
Victor Spinetti – Mr. Tumnus
Liz Proud – Mrs. Beaver
June Whitfield – Mrs. Beaver
Susan Sokol – Susan Pevensie
Stephen Thorne – Aslan
Rachel Warren – Lucy Pevensie
Reg Williams – Peter Pevensie