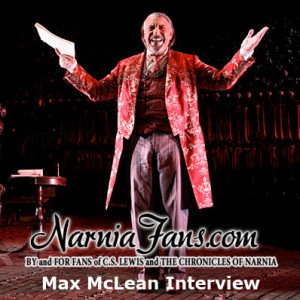 NarniaFans.com was able to interview Max McLean who plays the role of the demon Screwtape in the Screwtape letters stage production. This play is an adaptation of C.S. Lewis's classic book that tells about Spiritual Warfare from a demon's point of view. The Screwtape Letters is on a national tour and you can find out a list of current cities by visiting http://www.narniafans.com/archives/11552 or http://screwtapeonstage.com/.
NarniaFans:
The number one question that NarniaFans.com receives from fans is that there are a lot of people who want to know how they can get a role in acting in the Chronicles of Narnia movies and I was just wondering what advice do you give to young Christians who are interested in beginning a career in acting?
Max McLean:
In theater?
Well when you say they are young I am assuming they are college educated or no?
NarniaFans:
Some are younger than that.
Max McLean:
An actor is a person who has to use his life experience and so the more educated, particularly in liberal arts they are, the better. To work in a more technical training in masters of fine art programs in theater or in film is probably a good way to go, but I tell you what, the union is 97% unemployed so just keep that in mind.
NarniaFans:
I know that you have recorded several narrations for audio books including the Bible and I was wondering what audio book narrations would you like to record for any of C.S. Lewis's books.
Max McLean:
I would love to do all of them. I certainly would love to do The Screwtape Letters. I do think, we have, I think make quite a significant contribution to it, but I just love all of his theological works. Obviously Mere Christianity I love. I've really enjoyed reading Letters to Malcom: Chiefly on Prayer. It would be a joy to do. It's not easy, it takes a lot of work to break the back of what he writes orally, but I love the challenge.
NarniaFans:
Alright, great, and speaking of challenges, what was the most difficult thing about adapting The Screwtape Letters for the stage?
Max McLean:
Well it was never intended for the stage. It was intended as a meditation on the banality of evil for us to illuminate on how spiritual warfare works, and so to bring such a think piece on to the stage where the stage is about action took quite a challenge. What we've done is if you take an audiobook of Screwtape Letters is is a roughly six hour read. We do a 90 minute presentation; however I suspect we tell about 70% of the arc of the story and there is a story about the patient and his journey in life that Screwtape is tracking. It is a predator/prey story. Screwtape is the predator. The patient is is an interesting term that Lewis uses, "the patient", you and I think of patient as someone in need of healing to go to a hospital. A patient goes to a hospital to be healed. In Screwtape's vernacular a patient is someone in need of corrupting. Being brought to him as being part of his dinner table. So you want to get that story. Lewis used easily 50-60 word sentences, which work on the page and don't work on the stage. So we would have to edit it down to twenty. The right twenty words that get his thought across, but leaves room for the audience and the actors acting to fill it in. It is called The Screwtape Letters so you had to deal with the letter management. We didn't want Screwtape behind a desk writing letters so we brought in Toadpipe who is mentioned once in the book. Toadpipe handles most of the letters and she has a very amusing way of doing that. We have a marvelous set design that includes a device that gets the letters from hell to earth, which one of the reviewers from the Washington Post or one of the Washington newspapers said in a kind of interesting way that hell has to have one of those. Also Toadpipe, the way we cast it, is a person who has a lot of mime skills, a lot of physical theater. This person helps to embody a lot of the temptation techniques that Screwtape is employing. The key to the story is what happens to the patient, the patient is basically you and me, and the theatrical journey is what happens to Screwtape and how he self destructs as things start to go well for the patient. That's the journey of the play.
NarniaFans:
As you have been doing this, how has the Screwtape production changed since its early development?
Max McLean:
It's gotten simpler in the sense that the key thing was clarity, clarity, clarity. The first time we were in love with too much of it and therefore it was too dense, so we had to thin it out a little bit. We were able to hire better designers so we have a marvelous set design, lighting design, sound design, costume design, that really help us tell the story.
NarniaFans:
I imagine that a lot of the fans of C.S. Lewis are people who are already Christians, but how do you think that people who aren't already Christians are going to respond to this play?
Max McLean:
Well, Lewis has a lot of fans who are skeptics. I think one of the great things that I love about Lewis is that he was an adult convert. He never seemed to forget what it was like to be skeptical, how a skeptical person would view the Christian world view. He positioned his writing toward that person to help them to move them along. He is always so respectful. He is always game for a good argument, but he really respected the person. People would come away feeling that he gave them something to think about and wasn't trying to ram something down their throats. I think that we have a lot of skeptics, a lot of people of no faith, a lot of people of other faiths who have seen it in New York. We ran in New York for nine months. We did 309 performances. We outlasted 90% of the shows that opened in New York. A lot of them were Christian believers and a lot of them were Christian believers who felt very comfortable about inviting friends to come see it and then having engaging conversations afterwards. In fact most of the reviews seem to have focused on how thought provoking it was and how it made you think about your life. I also think that one of the great things about Screwtape and Lewis in general is he reminds us that we do not live in a material word. Yes, we live in a material world, but it's not only a material world. He peels back the curtain so that we can see that other world that Lewis lived in. I think a lot of people want to have that inner sense of imagination and joy that there is something more to this life than what I am living now. Lewis was so good at pointing people to the Christian faith by first pointing them to that other world.
NarniaFans:
One thing C.S. Lewis said about the Screwtape letters is that he found it difficult to write because of how uncomfortable it was to be dwelling upon evil. Do you feel that same way or did you enjoy it?
Max McLean:
Well I am ashamed to admit that I love playing Screwtape. It's a fun role because he loves the way he looks, he loves the way he talks, he loves the way he dresses, he is the smartest guy in the room, he is pure pride, and in literature and on stage, that's a lot of fun. It's certainly not fun and it's not beautiful in real life, but on stage it's a great character. When I was trying to picture in my mind what kind of character that I would draw from Screwtape, I had in mind Iago from Othello (Shakespeare), who is called "Honest, honest, Iago". He is someone who would take you into his confidence and then be able to manipulate you. I considered Hannibal Lecter in Silence of the Lambs, how he had this sort of marvelous aesthetic. He loved choice wines, loved the best, the fineries of life, but inside he was a vampire, he was a devil. He was just malignant. Again, using some kind of a masquerade to delude you into his confidence. And then I kept thinking of somebody like Oscar Wilde a Noel Coward who would kind of have this lightness of being, this light touch, that is so enchanting that again the whole purpose of it is to bring them into their confidence.
NarniaFans:
Another thing I was wondering about is how do you think that the Screwtape Letters would work adapted as a movie?
Max McLean:
Well, I'm interested in that because what makes the genius of Screwtape is that Lewis created a character. He created a single character who is one of the great characters of 20th century literature, and he was able to pull it off and he created a morally inverted universe, this morally inverted character, this demon. Up is down, good is bad, God is called The Enemy. Lucifer or Satan, is Our Father Bellow. So often those kind of things when you start them at some point they will break down you can't finish it off, you can't complete it. Lewis never wavered. It was so true from beginning to end. So he created this marvelous character and the book is probably one of the best examples of reverse psychology in literature. Now the problem with that as a film though is that in the book it is one character talking. There is a lot of unseen characters seen in the book, but the film very likely wouldn't be happy with one character. The setting of the book is in hell, it's not on earth so the setting of the film would have to be in hell. That's not going to be very compelling for two hours in a movie theater. You have to create all of these characters and it becomes Wormwood's movie or does it becomes the patient's movie where Screwtape is limited to whispering in Wormwood's ear and not being the central character. I don't know. Those are some of the challenges that will have to be considered when they write the screenplay.
NarniaFans:
As you have done the Screwtape Letters production, how has the Screwtape Letters production changed your view of spiritual warfare?
Max McLean:
For me it is front and center. I do believe that most churches underestimate it as one of the central focuses of the Christian experience. It's not like about you just pulling up your socks and doing better. There are forces at work who are trying to ruin your life and trying to keep you from the Lord Jesus Christ and the things that He wants you to do. I'm trying to find a quote that Lewis made in Mere Christianity that I felt was very, very telling. Here it is: he said,"One of the things that surprised me when I first read the New Testament seriously was that it talked so much about a Dark Power in the universe-a mighty evil spirit who was held to be behind death and disease, and sin. The difference is that Christianity thinks this Dark Power was created by God, and was good when he was created, and went wrong. Christianity agrees with Dualism that this universe is at war. But it does not think this is a war between independent powers. It thinks it is a civil war, a rebellion, and we are living in a part of the universe occupied by the rebel". I think when you know that as your experience it really focuses you to call on Jesus. I mean Lewis liked to do two things. He liked to tell stories, he loved to teach Christian theology. In Screwtape Letters he is reminding us of what Paul said in Second Corinthians "We must not be ignorant of his devices." Jesus said,"He goes about like a roaring lion seeking whom he will devour." I think the big take away is that yes as Jesus said that he who is in you meaning Jesus is greater than he who is in the world. We should not minimize how powerful, how mighty we're fighting against in the person that is in the world. I think spiritual warfare has been the reality of it has been the biggest take away.
NarniaFans:
Finally I want to know how do you get into the character of the devil Screwtape?
Max McLean:
Well as I mentioned I had these visions in mind Iago, Hannable Lecter, Oscar Wilde, but the key thing is that I really, really trust Lewis's words. I believe that if I can deliver those words with conviction I trust what Lewis wrote and then my character always begins with the words and then the body, the voice, the walk all emerge from the impulse that the words give my mind, my soul, my body, so it all begins with his words. Really saturating myself with his words and then letting them dictate how they are delivered. So far that has worked pretty well.
---