Hey, everybody! Welcome back to Tumnus' Bookshelf, where we review any and all books by, about, and inspired by CS Lewis, JRR Tolkien, The Inklings and the Land of Narnia. For today's review we will be looking at Wesley A. Kort's Reading CS Lewis: A Commentary.
Title: Reading CS Lewis: A Commentary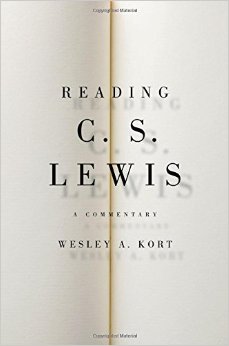 Author : Wesley A.Kort
Publisher: Oxford University Press
ISBN-10: 0190221348
ISBN-13: 978-0190221348
Summary:
From Wesley A. Kort, the author of CS Lewis Then and Now, comes a brand new book called Reading CS Lewis: A Commentary . Writing not as a fan or as a detractor, Kort seeks to write from an objective perspective to examine one of the 20th century's most prolific writers to show just why it is Lewis has remained so relevant after over half a century. Divided into three parts that look at 17 of CS Lewis' most beloved works, including Mere Christianity, Screwtape Letters, Out of the Silent Planet, and four of the Narnia books to examine Lewis' life, faith, intellect, and imagination and how those facets of his personality influenced his writing.
Through this examination Kort strives to give readers a balanced look not only at Lewis' work but at the person as well. Readers see Lewis then not as the horrible person his detractors make him to be, nor the lofty flawless saint his supporters make him out to be, but an incredibly complex and dynamic person with some views that were a head of his time, and others that the author feels were part of the world in which Lewis lived. They also see how Lewis's works complement each other and provide a broad look into the shared themes and motifs in each work.
Review:
All too often, even some the most serious scholars of CS Lewis can overlook his flaws. On the converse, those who seek to consign his works to the dustbin of history fail to see his wisdom, his wit, or his talent. Wesley A. Kort's new book Reading CS Lewis: A Commentary is an attempt to strike the balance between the two viewpoints, seeking rather to supply critical analysis and insightful scholarship. Kort does this in a clear, concise, and systemic manner by examining some of Lewis' works.
He first looks at some basic background of the work, and then he examines the structure before finally diving into the work itself. The works present help closely examine three key aspects of Lewis as a writer. The first section, which has Mere Christianity, Surprised by Joy, and The Screwtape Letters, looks at his early life and his growing faith. The second section which has the Space Trilogy and Abolition of Man looks at his imagination and his views on the future of humanity. Finally, we see his life, his faith and imagination in concert with one another through Narnia and The Four Loves.
Kort also reminds readers of how Lewis strove to seek common ground between religious denominations, something that has allowed CS Lewis to maintain a place of honor among Lutherans, Catholics, Baptists, and all other Christian denominations around the world. Few Christian authors past or present have achieved such a goal, and this is something all modern believers should try to emulate. He also applauds Lewis for valuing the intellect and imagination in the role of faith.
Due to the systemic approach of looking not only at the faith of CS Lewis but examining it in the context of philosophy, and even looking at the period of time in which Lewis lived, Kort even provides some surprising insights that I have never encountered before. For example, many Christian readers take issue with Screwtape referring to Wormwood as his "nephew" or the other terms of endearment he seems to use due to the Bible indicating that angelic beings do not marry. However, in noting that Lewis paints Hell as a bureaucracy, Kort points out that Lewis writes the letters more as official inter office memos , and that any such references are more like a bureaucrat trying to assure the low level workers they are all part of one big happy family when they really aren't.
Kort also tackles many of the more difficult aspects readers have with Lewis' works today. This means that, yes, the topics of women and race in the works of CS Lewis comes up yet again. Kort also takes issue with Lewis' view on the city, technology and modern progress. All this aside, he clearly seems to respect what Lewis tries to say, even though he may disagree with him on a few points, and never degrades to personal attacks on him or his readers as some are oft to do. He concludes by placing Lewis alongside many of the great authors, noting that many of their works have material that is considered offensive by today's standards ( like allegations of Antisemitism in some of the works of Shakespeare or Dickens for example), and yet they are still celebrated and taught in academic circles. He urges readers to read Lewis' work, and wrestle with the hard questions, but more importantly to appreciate that aforementioned wisdom, wit, and talent.
It should be noted that this book is geared more towards scholarly readers then a general audience, thus readers in that second camp should take note that they may find this work intimidating. However, for the first group, the scholars, this book is a dream come true. Some readers may blanch at the omission of other key works of CS Lewis, namely Till We Have Faces, The Great Divorce, A Grief Observed, and the other four Narnia books. And indeed, had they been included they would have provided some more insights into Lewis that would only broaden the picture of CS Lewis that Kort tries to paint.
In the end, Wesley A. Kort manages to achieve what so many other scholars struggle to do and that is provide a real, genuine, well balanced, objective critical analysis of Lewis work that does not denigrate Lewis' life, his work, or his readers, or fall into the opposing trap of placing Lewis so high on a pedestal that he seems inhuman.  So for the serious, hard core Lewis scholars, this book is a must read.
4 out of 5 Shields.
Order the book from Amazon.com