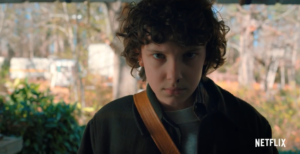 Stranger Things is one of my favorite shows these days (definitely not for kids, though). The casting on that show is consistently great across the board, and the acting is outstanding.
Millie Bobby Brown, thanks to her role as Eleven on Netflix's Stranger Things, has reportedly been offered the lead role of Jill Pole in The Chronicles of Narnia: The Silver Chair. This report comes from an exclusive at ThatHashtagShow.com.
While the other Narnia films had a tendency to use unknown actors to play the child roles, if this report is accurate, it seems that TriStar is going a different direction, and could be attempting to assemble an all-star ensemble cast for this film.
According to the report, it is not clear if Millie Bobby Brown has accepted or passed on the part at this point.
---