C.S. Lewis: A Complete Guide to His Life & Works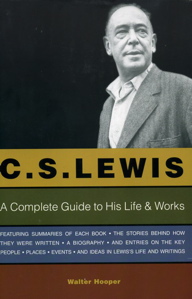 Author: Walter Hooper
Summary:
Winner: The 1997 Evangelical Christian Publishers Association Gold Medallion
The Life & Works of the Most Beloved Christian Thinker & Storyteller of the Twentieth Century–An Indispensable Resource
In this masterful and authoritative compendium, one of Lewis' keenest interpreters offers an illuminating and utterly entertaining look at his works–from The Chronicles of Narnia to his many essays on Christianity–and the life of the extraordinary man who created them.
Hooper traces Lewis' life from childhood in Belfast and war experience in France to his brilliant academic career at Oxford and Cambridge, his religious conversion, the publication of his books, and his late marriage and widowhood. The author explores the key ideas behind Lewis' thoughts on everything from enchantment, reason, imagination, and joy to democratic education, myth, and the masculine and feminine. A concise "What's What" guide explains the significance of places and things, from Kiln's, Lewis' home in Oxford to his many references to The Book of Common Prayer. In addition, a definitive "Who's Who" listing includes Lewis's many teachers, mentors, and friends, including Dorothy L. Sayers and J.R.R. Tolkien.