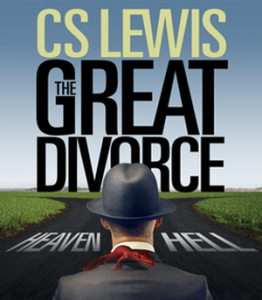 Max McLean, Artistic Director of Fellowship for the Performing Arts, announces that the World Premiere of C.S. Lewis' THE GREAT DIVORCE will be presented at Herberger Theater Center, 222 E. Monroe St., in Phoenix, in a limited engagement from Friday, December 13 through Sunday, December 22, 2013. This journey to Heaven and Hell is a provocative exploration of human nature, featuring vivid characters drawn with Lewis' trademark wit. THE GREAT DIVORCE National Tour will visit cities including Birmingham, Kansas City, Charlotte, Charleston, Cleveland, Colorado Springs, and Columbus in 2014.
Fellowship for the Performing Arts also produces the nationally acclaimed hit THE SCREWTAPE LETTERS, which will soon enter its fourth year after appearing in over 50 major cities throughout the United States. Over 350,000 theatergoers have seen THE SCREWTAPE LETTERS on tour and in successful sit-down productions in New York, Chicago and Washington, D.C. Following the overwhelming success of THE SCREWTAPE LETTERS, McLean conceived the idea to adapt THE GREAT DIVORCE for the stage.
"This is Lewis at his imaginative best," says Max McLean. In THE GREAT DIVORCE, several of Lewis' most provocative characters take a bus ride from Hell to Paradise. But the bizarre question the play asks is: Will they really like it? Will they prefer Hell to Heaven?
Three actors transform into over a dozen different personality types to tell this fantastical morality tale about good and evil. On the bus is a man who is going to demand his 'rights', a woman who can't stop grumbling, a gentleman who 'likes' Heaven but staying there means giving up his precious pet lizard, and a world traveler who believes Heaven and Hell are just a propaganda stunt run by the same people. As each ghost is welcomed by a celestial spirit, the choice of staying or going back brings vivid clarity to the "great divorce" between Heaven and Hell.
"There are only two kinds of people in the end," Lewis writes in THE GREAT DIVORCE, "those who say to God, 'Thy will be done,' and those to whom God says, in the end, 'Thy will be done.'" THE GREAT DIVORCE remains one of Lewis' most influential pieces and rightly earns its place among classics such as The Lion, The Witch and The Wardrobe, The Screwtape Letters and Mere Christianity.
THE GREAT DIVORCE stars Tom Beckett (Bobby Boland, Epic Proportions and The Father on Broadway and "Elbridge Gerry" in HBO's John Adams), Joel Rainwater (The Lion King, National Tour) and Christa Scott-Reed (The Pitmen Painters on Broadway).
The Fellowship for the Performing Arts is based in New York City with Max McLean as Founder and Artistic Director. Adapted by McLean and BrIan Watkins, THE GREAT DIVORCE is Directed by Bill Castellino, with the creative team including Executive Producer and General Manager Ken Denison of Aruba Productions, Scenic Designer Kelly James Tighe, Costume Designer Nicole Wee and Lighting Designer Michael Gilliam. Projections are by Chris Kateff with Original Music and Sound Design by John Gromada.
The Fellowship for the Performing Arts' production of THE GREAT DIVORCE celebrates the legacy of C.S. Lewis' profoundly influential life and honors the 50th anniversary of his death on November 22, 1963. This year, on that date, Lewis will receive one of Britain's highest honors, a memorial in Poets' Corner joining such legends as Chaucer, Shakespeare and Dickens.
THE GREAT DIVORCE will play on Friday, December 13 at 8 p.m.; Saturday, December 14 at 8 p.m.; Sunday, December 15 at 3 p.m. and 7 p.m.; Tuesday, December 17 at 8 p.m.; Wednesday, December 18 at 8 p.m.; Thursday, December 19 at 8 p.m.; Friday, December 20 at 8 p.m.; Saturday, December 21 at 4 p.m. and 8 p.m.; and Sunday, December 22 at 3 p.m. Tickets are $29 to $49. Student seats are $20 (student ID required). For groups of 10 or more (including student groups) call 866.476.8707.
---